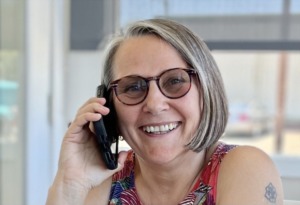 Home is where the heart is, and the right home in the right place makes all the difference in the world. Whether you are starting a new family or looking for a place to retire, the Southern Oregon Coast couldn't be a better choice to find your dream home. That's why Elke Cote chose Bandon as her home.
With roots in Las Vegas, Nevada, Elke came to Bandon in December 2020 to be close to her daughter and get away from the hustle and bustle of the big city. Enjoying the wonders of living in a small coastal community, Elke realized that she wanted a career that was more connected to her new hometown. Working with Beach Loop Realty as a real estate agent enables her to be connected with the community, meet new people, and share the pleasures of living in Bandon while helping her clients find a property that's right for them.
As a young woman, Elke always knew she was drawn to helping others, so she chose a career in Nursing. Working as an Emergency Room Nurse for many years, she helped patients get through stressful and sometimes life-threatening health issues. She realized taking care of patients was a team effort and many times her job entailed making her patients feel comfortable enough to make hard decisions about their healthcare or those of a family member. She recognized and valued the trust her patients placed in her, and strived to build a solid foundation with her patients by her professional work ethics, attention to detail, and a commitment to always put her patients' needs first. It is these qualities that she brings to Beach Loop Realty.
With a passion for service and a dedication to helping her clients find the right home, these qualities make her an excellent Real Estate agent who is ready to help with all your buying or selling needs. By providing the most precise and up-to-date feedback on market trends and comparable property sales, she gives her clients a realistic look at what they can expect in today's market. With exceptional customer service and dedication to your needs, you will be in good hands, and your real estate transactions will be as smooth and stress-free as possible.